Systemic-dialogical
counseling & coaching
A systemic-dialogic life and social counselor looks at people in their diverse contexts and focuses on expanding the quality of relationships. He or she accompanies people and groups on their way to living in a fulfilling relationship with themselves, with others and with the world.
Systemic-dialogic process support means creating a secure, equivalent framework in which people - be they personal, family or professional - can bring in, reflect, clarify and plan their next steps. With the help of dialogical methods and systemic-dialogical constellation work, we embark on a path of meaningful change of perspective.
Dialogic principles such as equality, inclusivity, listening from the heart, communicating authentically and allowing the new to emerge from what we have in common guide us on the advisory path and are the resources for deepening the quality of relationships. We regard the companion as an equal part of the common process, so we define the systemic-dialogical counseling context as a common development space.
Here you will find our current dates
This training is certified in accordance with Section 119 (5) of the 1994 trade regulations in the 2002 version of the training regulations for life and social counselors.
The most important breakthrough in the 21st century does not come from technology, but from an expanded understanding of what it means to be human.
Training overview
A 5-semester training to become a qualified life and social counselor
Existing systemic and dialogic further training can be recognized within the framework of the WKO's specifications and shorten the learning path
Two integrative degrees are possible:

Diploma in systemic- dialogical counseling & coaching
Certificate "Dialogue Circle Accompaniment"

Basic knowledge of "accompanying system constellations dialogically" is integrated in the learning path and can be expanded upon request to a completed training for the dialogical accompaniment of systemic constellations
Flexible planning of your own learning path
Emphasis on self-determined learning in dialogue; Contribute with your own knowledge and learn co-creatively with one another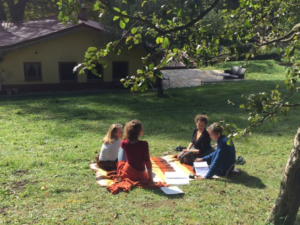 Three learning paths
This learning spaces concipated i a continuous program that enables flexible entry at the beginning of each semester. Depending on your previous knowledge, your learning path can be reduced to a minimum of two to three semesters. There are three basic variants:
You use this learning space as a whole: a 5-semester training course to become a qualified life and social counselor. The methodical part of these five semesters consists of four modules "Support system constellations dialogically" and four modules "Dialogue circle support", each of which ends with its own certificate. This means that in addition to your "Life Counseling" diploma, you have two additional qualifications.
You integrate your previous training in the LernRaum, insofar as this is legally possible, and you use the LernRaum for the parts that you are still missing in order to get the diploma "Life Counseling". With maximum integration (to be clarified in an introductory interview), the learning path is reduced to a maximum of half.
You have a degree that complies with the training guidelines and, in consultation with us, complete the training content that is still required. You do not need or receive a "life counseling" diploma, but submit independently for approval of the trade. We support you on this path of approval with all the necessary steps.
The steps
Registration and individual planning of the learning path
In a personal conversation, we clarify mutual expectations, reflect on your background and your previous training path, name the content you (still) need in the learning room and plan the next steps - length, costs, etc.
The learning group
The learning group meets in the open learning room every four to six weeks. Together we collect and share the common knowledge and practice practical sequences. In addition, we reflect on specific topics that are required for life counseling, such as basics, crisis intervention, family law, ethics, etc. The open learning space is a meeting and networking space where we learn dialogically with and from one another. The learning group forms an important practical and emotional resource for the path to a diploma and / or trade in "life and social counseling".
The methods
In this training, systemic and dialogical methods are taught. In the four basic modules "Supporting system constellations with dialogue", we impart systemic-dialogic basics. In the four modules "Dialogue Circle Accompaniment", dialogical principles, core attitudes and methods are learned. Both methodological elements of the LSB training are additionally certified. If you have already completed an apprenticeship in these areas, which we are allowed to recognize according to the LSB Training Ordinance, you are partially or fully exempted from it.
Where does it take place?
The Dialog Academy and this learning space are based in Klein Meran, Kaiserbrunnstrasse 6, Pressbaum: a beautiful place in the middle of the nature of the Vienna Woods. There are plenty of places to stay in the area.
For larger groups, the learning room takes place in suitable seminar rooms nearby. More about our locations.
How much does it cost?
Information and admission interview

€ 140, -
Childcare costs


Registration costs and costs for personal support up to the trade respectively. diploma

€ 480, -
Learning spaces


per semester (exempt from VAT)

€ 1850 *
Total learning space: 5 semesters, incl.recognition and registration costs: € 9990 *
* Payment in monthly installments possible. Additional administration costs will be charged