Introduction to the basics of dialogue according to David Bohm and Martin Buber
3 day introductory seminar
(Can be credited as module 1 of the dialogue circle accompaniment training)
15.-17. October 2021 in Innsbruck
Fri 10:00 am - Sun 14:00 pm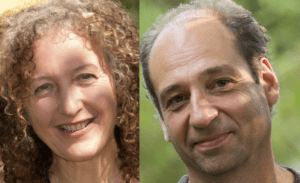 How often do we talk past each other. Don't listen carefully. Know in advance
what our counterpart wants to say. Have ideas and assumptions or evaluate
our interlocutors hastily cut off? Common conversation patterns, ours
Endanger relationships or even make them impossible.
Wherever human interaction is involved - from the couple relationship
Family, club life, neighborhood, organizations, meetings and professional contacts -
everyone involved benefits from slowing down and the ability to establish authentic relationships
and respectful, true contact.
The process-oriented dialogue offers a space for experience and development
communicative, social and mental skills and mindfulness.
Dialogue is not a new communication technology, but goes far beyond that:
His core competencies, the dialogical mindfulness, are actually the basis
human coexistence.
Seminar content:
Module 1: Introduction to the dialogue process, basics of the dialogue circle accompaniment
- Roots of dialogue, dialogue model, comparison between dialogue and discussion
- Getting to know and practicing the dialogic core skills
- Models and self-awareness of assumptions, evaluations and interpretations
- Experience the quality of the dialogue circle: a place for quiet voices as well as for daring thoughts, for "talking without wanting to seem" (M. Buber).
Target group:
All interested parties, couples, parents, trainers, coaches, supervisors, mediators,
Therapists, employees in the medical and social context, teams,
Educators, managers ...
Management:
Benno and Maria Kapelari
Benno is training manager for dialogue process support and life and social counseling in
the dialogue academy he co-founded, supervisor, school u. Community founder, VS teacher, Montessori educator, trainer.
Maria is life u. Social advisor, dialogue process facilitator, singing group leader, yodeler,
www.stimmenspiel.at
Seminar fee: € 345.- (incl. 20% VAT)
Module 1 can be booked separately from the remainder of the dialogue circle accompaniment training.
You will get to the further training path in dialogue circle accompaniment here..
Information & registration:
Benno Kapelari: +43 699 111 80 472
info@dialogakademie.eu, www.dialogakademie.eu
Other dates:
18.-20. February 2022 in Pressbaum (near Vienna)