Education
Dialogue Facilitator Training
Deepen the dialogical attitude and facilitate dialogue circles
The training to become a dialogue group facilitator offers participants the opportunity to deal intensively with the topic of 'dialogue' over a longer period of time.
It provides a framework for collecting your own dialogue experiences and for experimenting with different styles of accompaniment and intervention.
The training offers a space for intensive exchange about dialogue circle accompaniment and its various application possibilities, for developing one's own dialogical attitude and getting to know one's own strengths and weaknesses, which have an impact on the accompaniment of dialogue processes.
In addition, the training offers impulses and ideas for the implementation and application of dialogic principles and forms of work. It provides a professional basis for accompanying dialogue circles, both in work contexts and in the private sector.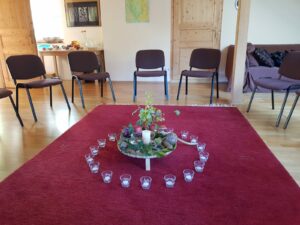 People build too much walls and too few bridges.
Dialogue time
includes the practical participation in rounds of dialogue, the practice of your own dialogue skills and the reflection of personal experiences during the dialogue.
mindfulness training
includes a practice-oriented self-experience, within which we examine and get to know our own mental models and assumptions (the limits of our own thinking) with the help of different methods. This mindfulness is necessary in order not to act too quickly as a facilitator out of one's own pain, one's own defense or one's own ideals or intervene in the process of the dialogue. In this way we expand the inner space for diversity and for different, sometimes 'difficult' modes of reaction.
Facilitator training
includes the practical accompaniment of dialogue circles, leading generative and thematic dialogues, experimenting with different approaches, forms of work and interventions, reflecting on topics that are important for the accompaniment, and practicing the most important skills of a facilitator:
The room preparation ('room' in the broadest sense)
a clear and sustaining presence
giving feedback
the clear handling of the dual role of participant / companion
Experience & reflection
Between the 4th and 5th block, the participants plan, organize and accompany at least one dialogue group. The fifth block is devoted to supervision and learning from one another.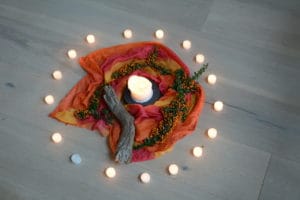 Who is this interesting for?
This training is aimed across professions at all those who want meeting rooms for groups and
Want to create communities so that diversity becomes visible and can be used. We invite people who work in educational, entrepreneurial, social and therapeutic contexts. The training is also aimed at everyone who wants to live a dialogue in personal and family areas and who want to accompany moments of dialogue.
Where does it take place?
Up to 16 participants in Pressbaum near Vienna, for larger groups up to a maximum of 20 participants in a suitable seminar room nearby.
How much does it cost?
Module 1 (introduction): € 345 incl. 20% VAT.
Module 2 to 5: € 2640 including 20% ​​VAT for 12 days, including material and drinks, excluding food and accommodation (partial payment per module possible).