Systemic- dialogic constellation work
accompany dialogically
Further training in nine modules with Karin Schöber, Eelco de Geus & guest colleagues in Vienna.
This advanced training provides a sound basis for accompanying system constellations in the context of therapy, coaching, counseling and training. In the dialogical approach, we attach particular importance to equality, mindfulness and presence in the joint process between companion, client and group. You will gain experience and knowledge for your own perception and develop your competence as a companion.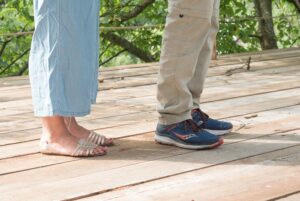 The most important breakthrough in the 21st century does not come from technology, but from an expanded understanding of what it means to be human.

9 modules for a total of 27 seminar days (German spoken):
Module 1: I in the field of my relationships - Eelco de Geus & Karin Schöber
Systemic and dialogical basic principles, theory & practice of dialogue, the dialogical attitude, systemic perception & theory, self-awareness, constellations on the subject of relationship quality, history of constellation work.
Module 2: Methodical in constellation work - Eelco de Geus
Steps, phases and levels in the constellation work, preliminary discussion, questioning technique and order clarification, body orientation & focusing, setting up and questioning the representatives, first interventions & movements.
Module 3: Family Dynamics and Loyalty - Kurt Fleischner
Family structure, basic orders, belonging, autonomy and solidarity, triangulation and other dynamics.
Module 4: Distinction within - Eelco de Geus
Individual constellation work in coaching, consultancy and therapy with a systemic board, in the imagination and in conversation, deepening work with floor anchors.
Module 5: Life as a couple - Karin Schöber & Eelco de Geus
Love and attachment,, origins, couple relationships and parenting, previous partners, patchwork and other forms of living together. What connects, what divides and what our being together might make possible.



Module 6: About the body in dialogue - Karin Schöber
Trauma work in a constellation context, body awareness, elasticity and resilience, self and co-regulation, authenticity and relatedness
Module 7: The wisdom of symptoms - Karin Schöber
Symptom constellations, symptom as resource & signpost, work with and integration of inner components, fate
Module 8: Many voices, one language - Guni Baxa
Experience different styles and approaches in constellation, constellation as a transverbal language, learn in dialogue with experienced, invited colleagues.
Module 9: Supervision & reflection, graduation with Eelco de Geus & Karin Schöber
Facilitating under live supervision, rituals, integration, reflection, certification & joint conclusion
From the 4th to the 8th module, each seminar can be booked individually for people who have already completed a constellation training (max. 6 places available.)
Here you will find all current dates
For whom…
This training and further education is aimed
to people who:
want to work in the field of training, coaching, therapy, counseling, pedagogy or supervision and want to integrate systemic constellation work
want to sharpen their systemic perception and deepen their dialogical attitude
have already dealt with systemic constellation work and want to integrate new styles and approaches
want to gain further experience in the constellation work
Costs…
The total costs amount to € 4250 excluding 20% ​​VAT for 27 seminar days.
With a total payment of 100 euros discount.
Payment in installments possible in two parts (50 euros discount) or per module.
Training can only be booked as a whole.
Modules 4, 5, 6, 7 and 8 can be booked individually for graduates:
Graduates of the Dialogakademie: € 360 excl. VAT per module (25% discount).
External graduates: € 480 excluding VAT per module.