Introduction to the basics of dialogue according to David Bohm & Martin Buber
2 day introductory seminar
18.-20. February 2022, Fri 10:00 am - Sun 14:00 pm
Klein-Meran, Pressbaum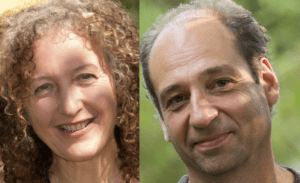 Wherever human interaction is involved - from the couple relationship
about family, club life, neighborhood, organizations, meetings and
Professional contacts - everyone involved benefits from slowing down, the ability
to authentic relationships and respectful, truthful contact.
The process-oriented dialogue offers a space for experience and development
communicative, social and mental mindfulness.
Dialogue is not a new communication technology, it goes far beyond it
out:
His core competencies, the dialogical mindfulness, are actually those
Basis of human coexistence.
Seminar content:
Module 1: Introduction to the dialogue process, basics of the dialogue circle accompaniment
- Roots of dialogue, dialogue model, comparison between dialogue and discussion
- Getting to know and practicing the dialogic core skills
- Models and self-awareness of assumptions, evaluations and interpretations
- Experience the quality of the dialogue circle: a place for quiet voices as well as for daring thoughts, for "talking without wanting to seem" (M. Buber).
Target group:
All interested parties, couples, parents, trainers, coaches, supervisors, mediators,
Therapists, employees in the medical and social context, teams,
Educators, managers ... ..
Management:
Benno and Maria Kapelari
Benno is training manager for dialogue process support and life and social counseling in
the dialogue academy he co-founded, supervisor, school u. Community founder, VS teacher, Montessori educator, trainer.
Maria is life u. Social advisor, dialogue process facilitator, singing group leader, yodeler,
www.stimmenspiel.at
Seminar fee: € 380.- (incl. 20% VAT)
Module 1 can be booked separately from the remainder of the dialogue circle accompaniment training.
You will get to the further training path in dialogue circle accompaniment here..
Information & registration:
Benno Kapelari: +43 699 111 80 472
info@dialogakademie.eu, www.dialogakademie.eu
Other dates:
15.-17. October 2021 in Innsbruck